There is a direct correlation between bad management and high employee turnover.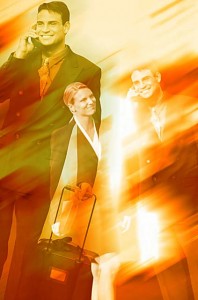 Have you ever experienced a situation similar to this?
The president of the company was frustrated as he watched the sales slide lower during the past four quarters. The leadership team had a brainstorming session and decided the problem was their people.  They needed to "motivate" them. So they spent several thousand dollars and hired a motivational speaker to get their workforce fired up.
She gave a great speech and told everyone to think positively, dream big and to make a list of the top ten goals they needed to do to improve their sales. Then they spent another thousand dollars purchasing motivational posters and hung them on the walls around the office. Management was happy thinking this would solve their problem.
Sales improved for about a month and then in predictable fashion, sales started dropping again. So they fired the sales manager and hired a new one to rev up the sales team. Morale plummeted and then their best sales people started quitting one after one. OMG!
Now what? What did they do wrong? What would you do?
The problem was not the people, but the sales process. Yes, it is important you hire the right people, but most of the time the real culprit is not the people, but bad management, bad processes and systems that hamper motivation, growth and efficiency. People want to do a good job. It is up to management to help them, not blame them.
My experience shows me 30% of what most people do at work is non-value added—wasteful rules, policies and sign off. Departments don't talk to each other and their bureaucratic and diseased processes hamper and frustrate motivated people. When this goes on too long, it demotivates and as a result sales will drop, communication becomes dysfunctional, people become frustrated and employee turnover increases. 
You can hire all the motivational speakers you want and hang all the inspirational posters you can buy, but if you don't fix the real problems, processes, eliminate the bureaucracy and deliver great service you are dead in the water. Optimize your organization first—then bring in the marching bands and motivational speakers. You will have something to celebrate—I guarantee it!
Recognized as a dynamic motivational speaker and leading authority on change management, leadership development and business transformation. Smith teaches people how to build a high energy workplaces that accelerate performance, generate more profits, increases sales and provide outstanding leadership.  As a professional motivational keynote speaker and business author, Smith's motivational and inspirational presentations have been heard by audiences in over 26 countries. He has spoken to hundreds of business associations, human resource associations, healthcare organizations and businesses. 
Greg Smith | Lead Navigator | 770-860-9464 | Chart Your Course International
Chartcourse.com | HighperformanceOrganization.com